Operadores de logística em 2019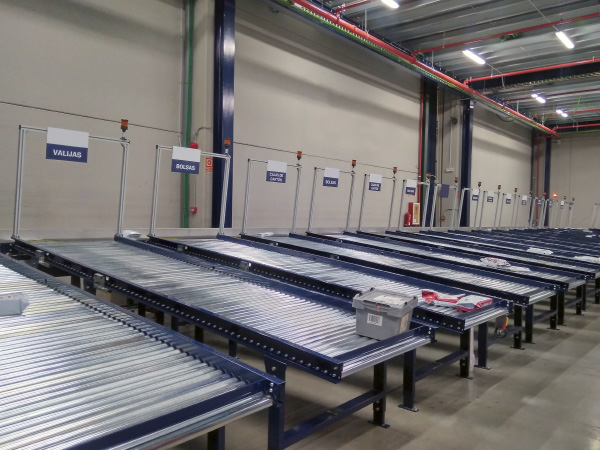 Um estudo recente do Observatório Setorial DBK do INFORMA destacou recentemente que os operadores logísticos atingiram um faturamento conjunto de 4.500 milhões de euros em 2018, incluindo receita proveniente do armazenamento de mercadorias e operações associadas realizadas em bens armazenados (manuseio, transporte e distribuição) e excluindo os negócios derivados de serviços não associados a operações de armazenamento.
O que este relatório confirma é que os serviços operacionais e de armazenamento no armazém continuam a crescer ano após ano, portanto, acima da média do setor como um todo. Em 2018, eles geraram uma receita de 2.135 milhões de euros e, se tudo continuar o mesmo, provavelmente a encerrarão com resultados ainda melhores.
Além disso, um fator importante para esse crescimento se deve ao ecommerce, que nos últimos anos entrou no campo da logística. O aumento nas vendas on-line obrigou as empresas e os operadores de logística a se adaptarem a fim de suprir a demanda corretamente. Essa adaptação implica, em muitos casos, a instalação de instalações e armazéns, no caso de empresas, e o crescimento do número de concorrentes, no caso de operadores logísticos.
Na JHernando, realizamos inúmeros projetos de adaptação de instalações, com instalações completas que incluem vários sistemas de transporte e classificação (tapetes de correia, tapetes transportadores de rolos, sorters...), robôs AGV e sistemas de automação e classificação de todos os tipos. E isso não apenas permite melhorar os tempos da cadeia de suprimentos, mas também ganhar eficiência, algo crucial quando falamos de empresas dedicadas às vendas on-line.
Outro dos pontos relevantes que o estudo do Observatório Setorial da DBK colocou sobre a mesa é que as operações de logística com alimentos e bebidas concentram atualmente mais de 40% do faturamento, bem à frente de outros setores, como máquinas automotivas ou eletrônicas.
Esses tipos de produtos requerem manuseio especial e cuidadoso e devem ser levados em consideração. Desde instalações específicas para a indústria da carne até o processamento de peixes ou padarias que precisam adaptar suas correias transportadoras para serem certificadas pelos padrões da FDA. A escolha da correia transportadora correta é, nesses casos, essencial para manter uma limpeza correta das instalações. Em nossa extensa jornada como empresa, aconselhamos muitas empresas de alimentos que, apesar de terem claro o que precisavam, duvidavam de como realizá-la.
Como presumivelmente 2019 continua sendo um bom ano para o setor de alimentos e bebidas, tanto na distribuição on-line quanto nos canais de distribuição tradicionais, o JHernando permanecerá no sopé do canyon para oferecer a essas empresas as melhorias mais recentes e mais modernas do mercado em termos de automação industrial.
------------------------------------------------------------------------------------------------------------------
A recent study by the Sectoral Observatory DBK of INFORMA recently highlighted that logistics operators achieve in 2018 at a joint turnover of 4,500 million euros, including income derived from the storage of goods and associated operations carried out on the stored goods (handling, transport and distribution) and excluding the business derived from services not associated with storage operations.
What confirms this report is that the storage and operative services in the warehouse continue year after year to grow above the average for the sector as a whole. In 2018 its generated an income of 2,135 million euros and if everything continues the same, probably 2019 will end up with even better results.
An important factor for this growth, in addition, is due to ecommerce, which in recent years has burst onto the logistic field. The increase in online sales has forced both companies and logistics operators to adapt to be able to supply demand in a satisfying way. This adaptation entails, in many cases, the implicit implementation of facilities and warehouses, in the case of companies, and the growth of the number of competitors, in the case of logistics operators.
In JHernando we have carried out numerous projects to adapt facilities, with complete installations that include various types of conveyors and sorters (belt conveyors, roller conveyors...), AGV robots, and automation and sorting systems of all types. And that not only allow to improve the times of the supply chain but to gain in efficiency, a must have when we talk about companies dedicated to online sales.
Another of the relevant points that the study of the Sectoral Observatory DBK has put on the table is that logistics operations with food and beverage products currently account for more than 40% of turnover, far ahead of other sectors such as automotive or electronic machinery.
This type of products require a special and careful handling and must be taken into account. From specific facilities for the meat industry to the processing of fish, or bakeries that have to adapt their conveyor belts to be certified by the FDA standards. The choice of the correct conveyor belt is, in these cases, essential to maintain proper cleaning of the facilities. In our extensive journey as a company, we have advised many food companies that even having clear what they needed, they were hesitant about how to carry it out.
Assuming that 2019 will continue to be a good year for the food and beverage sector, both in online distribution and traditional channels of distribution, JHernando will remain to offer these companies the latest and most modern improvements of the market in terms of industrial automation.