JHernando has become the LR Sorter distributor for Spain and Portugal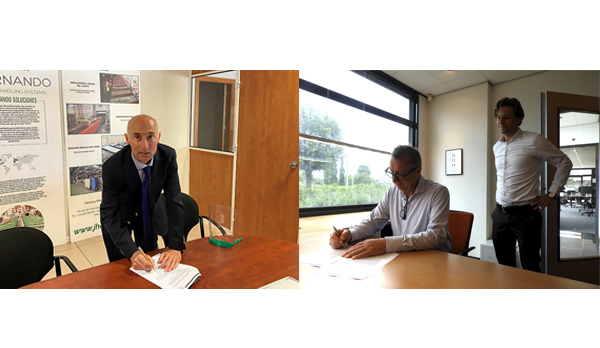 After successfully installing a single door parcel sorter for GLS in Madrid together, JHernando has taken the next step and became the exclusive distributor of the Equinox LR-Sorter in Spain and Portugal.
Equinox MHE is a company which started out as a software company focused on integration and warehouse management systems and then they has specialized over the years in sorting systems, accumulating extensive experience in the manufacture of sorters such as the LR-Sorter. The LR-Sorter was a perfect addition to the JHernando´s portfolio, answering the demand for a versatile sorter suited for ecommerce and parcel businesses.
Juan Francisco Hernando, CEO at JHernando says: "The rise of ecommerce has increased the demand for solutions that sort low weight, small parcels at high speeds. The LR-Sorter covers a large portion of this demand and has a very short delivery time when compared to the industry standard. In addition, we believe there is a good match with Equinox in terms of experience and the type of markets we approach. During the installation in GLS, the idea came to life to collaborate more frequently than just for this one project, we have now realized this with this distribution contract."
Frank Valkenburg, LR-Sorter product manager: "The LR-Sorter is designed for effortless installation, expansion and maintenance. This makes it easier for our distributors to install and service the sorter. With an experienced and competent party like JHernando, we rest assured that our sorters are implemented correctly and the installations live up to our customer's expectations!"
Juan Francisco Hernando, CEO JHernando
Mick Verberne, General manager and Frank Valkenburg, LR Sorter product manager