AGV robots from MLR System GmbH are used for numerous logistics sectors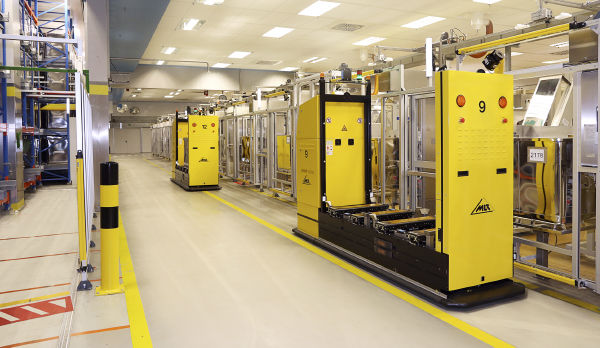 The MLR System GmbH´s AGV robots are characterized by their robustness and reliability, with some of this skills:
Its highest quality. If you are looking for a satisfactory medium- to long-term result, the robustness of these AGV vehicles guarantees an optimal solution and long-lasting durability.
AGV robots specifically designed for their function. MLR does NOT automate machines (forklifts) already existing in the market. Instead AGV vehicles are designed and manufactured adjusted to the needs of each company, with the best components for traction, turn, navigation, elevation, etc. So we can guarantee superior performance and not an adapted product with worse expectations.
A quick return on investment. With the savings that will be achieved in the internal logistics processes, it will be possible to make the automatic guided vehicles profitable in the first years.
Huge adaptability. This adaptability makes them ideal for automating all kinds of processes that, otherwise, would cost a lot of money in effort and personnel.
AGV robots suitable for various industries and multiple uses. Both in the food sector, where an AGV vehicle can classify raw materials and processed product, fulfilling functions, among others, dosing or weighing; as in the pharmaceutical industry, where it can be adjusted to NCF and FDA standards. AGV systems can also be easily integrated in the automotive industry, for transporting motors, tools and parts for the car and its bodywork. And for packaging and order picking, with special AGV vehicles for delicate surfaces, with very precise navigation.
Excellent local service. JHernando, distributor and official service of MLR System GmbH in Spain and Portugal, offers, as always, an unbeatable after-sales service throughout Spain. With a prominent presence in some of the main capitals, such as Madrid, Barcelona, ​​Seville, Valencia; or Lisbon and Oporto. Everything so you can make the best decision based on your real needs.